We started our initiative in October 2018 with one woman, Gauhar, just because the rest of them refused, where she said to us 'Didi humari comm

mein ladies ko kaam karna mana hai lekin mein kuch karna chahati hoon'. (In our community women are not allowed to work but I would like to work). There are millions of women like Shaheen who are made to believe that their future is limited, while for men, the sky is the limit.
About us : (Read more about us on our 
Instagram
and 
website
)
While we started with one women, today, Skilled Samaritan Foundation provides income opportunities to almost 100 women from rural communities in Muzaffarnagar district who have broken age old barriers to lead a life of dignity and respect. These incredible women (who previously never saw life beyond household chores) use their existing skill-sets to handmake home, fashion and lifestyle products made from recycled consumer industrial plastic packaging waste, textile waste and recycled cotton, where we aim to create a dual impact to promote gender equality and sustainable production and consumption patterns.

'While our husbands and brothers were told that sky is the limit, we were told that our future is limited'
Before working for SSF, the women of Muzaffarnagar District (also known for its crime), most of whom were married at the age of 15/16, were completely reliant on their husbands for financial support. We have provided the opportunity for these women to gain self-confidence and pride as they are now an additional source of income generation for their families, earning up to 5000 rupees per month.
How Covid has affected usUnfortunately, the livelihoods of these women have been enormously affected by Covid-19 in the following ways:

The lockdown in India means that production has been on pause for over 2 months due to disrupted supply chains and unavailability of product material, which has directly affected our work.
We have had to cancel future orders, bear losses of unsold inventory and suffer from dwindling cashflows, due to substantial decrease in online and offline orders and cancellation of exhibitions and pop-ups (which was one of our biggest sources of income)
The artisans were paid on a per piece model, where the incomes of 80% of our artisans have gone down to 0 due to sudden pause in production and consumption
 While we have been providing the most needy families with a monthly stipend, our corpuses are slowly depleting due to which we have had to decrease full-time staff salaries and put some staff salaries on pause  
How you can support
Please support the women of Muzaffarnagar today so that they can keep them moving forward in their journeys as empowered and financially independent women.
While we aim for them to reach for the stars, they're determined to get to the moon
!
Your support can help us in one of the following areas:
Medical treatment: A lot of the women live with large families and aged parents, where they do not have private modes of transport to take their sick parents or relatives to hospitals for their regular treatments. They usually have to spend a small fortune to hire private vehicles  to take them to clinics in neighbouring cities which are atleast 40-50 kms away. We have had atleast 10 such cases in the last month where urgent funds were required to support  transportation costs or medical supplies for the families of our artisans.
Home schooling their children: Atleast 60% of our women have 4-5 grown up kids each, who now have to be home schooled. With no access to online learning and tutorials, we aim to provide them to interactive books and stationery so the children can stay occupied and learn from home, while the mothers can focus on their household and work duties.
Monthly bills payment:

 

A lot of men from the artisan's families were migrant workers or those with jobs in neighbouring cities; with the all the men back home, there is additional pressure on the women for household chores, additional grocery bills and utility payments.
Regular Stipends for workers ad staff salaries:

 

We have had to pause production due to which our revenue has been impacted, hence we need the funds to pay our staff salaries and small stipends to women and their families who need it the most.
Shop from us!: You can head to our website (click link) and shop our beautiful products, which we will ship to you (2-3 weeks from date of order) as soon as we start production post the 20th of May.
Our Impact
The Impact: Remember Shaheen, 6 months after we were first introduced to her, her gaze had lifted, she had become confident and spoke to us eye to eye, and said' yeh dekho didi, meine apne husband ke liye ek phone kharida'. (Look didi, I bought a new phone for my husband!)

Whats we're doing from our end: 
We always say that we are about the BOSS stories and not the SOB ones, so we're damn sure we are going to emerge stronger, better & wiser from this, so what are we doing to make things better for us: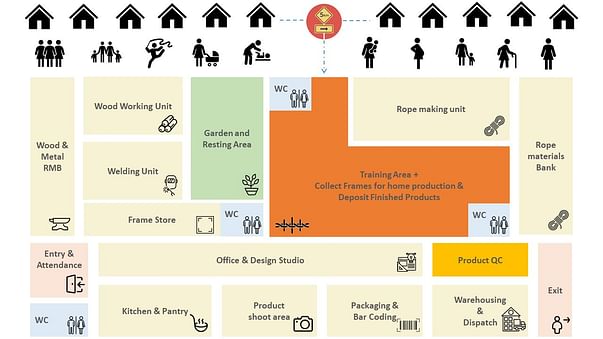 We are going LOCO:
With the unending lockdown and restricted gatherings in public places, where working from home is going to be the new new norm we are developed a simple creative work-from-home model for our artisans:
- Where women of all ages, disabilities, caste or creed can work with us from the comfort and safety of their homes
- We aim to set up our new our production facility called the Skill Lab, as a 'Drop-Collect' unit which will be located within 5-7 kms of atleast 20 villages, where majority of our artisans live
- Women have the ability to come themselves or send a male member of the family to collect frames to take home to weave, from our production centre which will be less than 5 kms away from their village so it is walkable or cyclable distance
- There are around 20 villages in the vicinity of 5-7 kms from our project site, with an average of 250 employable women per village, so we can provide incomes for almost 5000 women
- They can collect frames of products and materials from our project site, and take them home to weave and deposit once they have finished where at the end of the month we pay the women by the no. of products they have made.
- This way there are limited craftsmen at the site and women can work from the comfort and safety of their homes while attending to their chores, kids and adhering with the Covid guidelines
- Post Covid, this centre will be open to public to visit and for designers to provide online and offline trainings to our artisans !